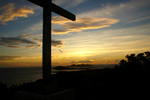 What kind of minister are you?
What kind of minister are you? My question is for everyone who reads this. The ministry of Christ is now being performed by every baptized member of the church. Think about that for a few moments! My question is not "Are you a minister?" Rather, "What kind of a minister are you?" The word "minister" means a servant; one who serves others because of Christ, in God's name, and for God's sake. Clergy are called to be shepherds; pastors who care for their people, who visit the sick, who preach the word of God, who celebrate God's sacraments, and who pronounce God's blessing. To what ministry are you being called?
You are called to serve the world that God loves, in the ways that only you, because of your gifts, can serve. Only you, under God's guidance, can determine how your ministry is to be performed. The laity has been given a precious ministry too often ignored and rejected. I call you to seek your unique, necessary task of making God in Christ known to those who need you. We have all kinds of ministers ... some very effective, some indifferent and lethargic. Your ministry is not just to strengthen the church. We exist as a congregation not only to give glory to God in true and life–changing worship, but we exist to draw others and to serve them, as they need to be served. We can and must do a far better job of training and equipping ourselves to become the effective ministers God intends us to be!
Are you willing to consciously grow as the minister you are?