Thanksgiving Day and the Poor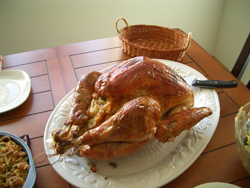 In the midst of our bounty remember "the least of these, my brethren." In Matthew 25: 31–46, the Son of Man sitting on his throne judges the nations dividing them between his right and left hand: the blessed and the condemned. Those blessed have done little things secretly to the Lord in his many disguises:
"I was hungry and you gave me food, I was thirsty and you gave me drink, I was a stranger and you welcomed me, I was naked and you clothed me, I was sick and you visited me, I was in prison and you came to me."
From this Scripture, our ministries to Thanksgiving charities become clearer. Our feasting is feasting still, and even more a feast when we share in God's name. Some would spoil our feast and increase our guilt by making us remember only the poor before our turkey dinner. But, Thanksgiving should be recognition of the Ultimate Giver of all turkeys, food, clothing, drink, etc. Our bounty needs to be shared with the poor because it isn't totally ours ... we received from the most bountiful giver. If we look at people's needs our distribution is poor. Justice demands that we improve that. Thanksgiving Day reminds us, rich and poor alike, that we all receive and share from God's gifts.